Welcome to Kohinoor Hotels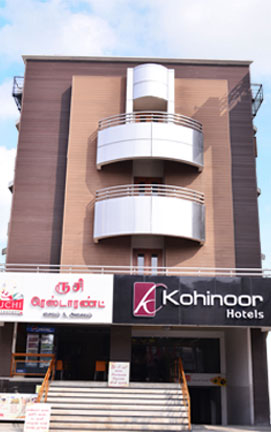 Centrally located on Brough Road in the heart of Erode's commercial hub, Kohinoor Hotel Erode is the smart choice for all types of guest including corporate, business travelers, leisure, short & long stay and for those who are transiting Erode and are looking for exceptional service combined with the value for money, offering a relaxed, affordable and hassle-free stay every time with endless comforts.
Guest can choose from 42 well-appointed spacious air-conditioned rooms and suites that showcase contemporary design.
Amenities include high-speed free Wi-Fi throughout the hotel, free parking, LED TVs with 50 satellite channels in every room, 24 hours check in/check-out, room service, free newspaper, concierge and more.
A delicious complimentary South Indian breakfast available to all guests in the morning at Ruchi Restaurant which is located at the lobby.
A variety of Delicious tandoori dishes, grills, seafood & multi-cuisine dishes are available at Ruchi for lunch and dinner are available.
For all your event needs whether it is for wedding, reception, engagement, conference or seminar the Emerald is a beautifully designed 660-sq ft. hall that can host up to 100 covers. The second hall Sapphire is a superb open space roof top with the seating capacity of nearly 300 plus for all kinds of functions, engagement, wedding, friends get to gather, ladies night, casual gathering and more .